Do you need a hand with sizing, stock or a product recommendation? Our Product experts are available. Give us a call on 1800 954 514 and press option 1.
Unisex sizing follows the Men's size curve.
Sizing will vary between each brand; as we understand sizing can be quite tricky, we recommend using the size selector which is located on each product page to help you determine your correct size. If you already have an existing shoe in the same brand, that's usually a good indicator of the size!
Select a size and you can toggle between Men's/Women's/UK/EU to find your size conversion.
When purchasing an item from a unisex range or brand, your invoice will reflect the US Men's (default) size.
For example, you might be a US Women's 7 however it will show as US Men's 5 at the checkout and on your order confirmation. In this instance, a US Men's 5 is equivalent to a US Women's 7!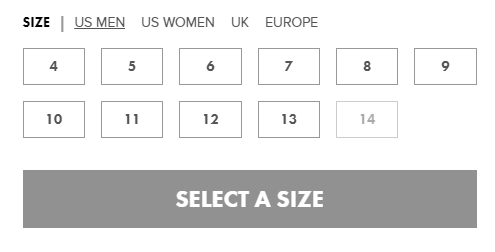 Please note that once an order is placed, we cannot make any changes to the sizing! Remember to double-check that you have selected the correct sizing before checking out.