Some styles are designed to be worn by both men and women, also known as a unisex style.
A unisex style is essentially a men's style but made available in smaller sizes so that women can also wear them. This is why a unisex style will always show the men's size range primarily.
Each country has their own sizing guide, whether US, UK or EU etc. On the product page, you will be able to toggle between US mens and US womens, UK and EU size guides, based on what size guide you want to use.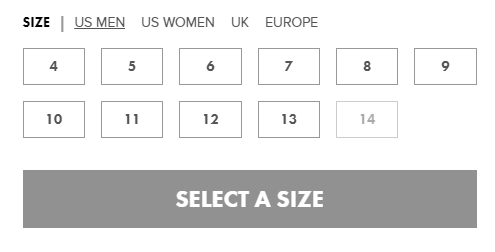 Example : If you usually take a women's US 7 in the Adidas Originals Swift Run, you could also describe the size as a men's US 6, a UK 5.5 or an EU 38.5, whichever way you want to look at it.
What size do I add to my cart? Being a unisex style, the primary size guide will be in US men's sizing. Therefore, you could either:
- Add the US men's 6 to your cart (this will be equivalent to the US women's 7).
- Toggle the size guide to show US women's size range and add the US women's 7 to the cart. Please note, the cart and invoice will reflect the equivalent US men's (default) size.
Please note: When purchasing a unisex style, your invoice will reflect the US Men's size.
If you still require help with sizing, give our Product Experts a call on 1800 954 514 and press 1 once prompted. Our experts will help you choose the right size and can even place an order securely over the phone for you.